Internationally renowned singer and percussionist, Alessandra Belloni--Remo Signature series Artist presents:
RHYTHM IS THE CURE: A One Woman Show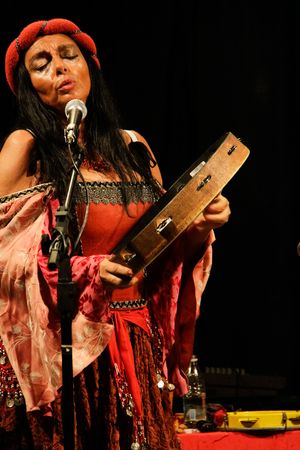 Dedicated to the healing power of drumming and the Tarantella Rhythm 
This is a one woman show  featuring voice, percussion and ritual dance, including Southern Italian tambourines, frame drums, ocean drum, Bodhran, shakers, berimbao, harmonium.
 This fiery "percussive journey" through the South of Italy will explore through songs, dance and rhythm, magic rituals, tarantellas used as music therapy and exorcism, healing chants  in honor of the Black Madonna, lullabies, love ballads, work chants and protest song.
The performance ends with the authentic Pizzzica Tarantata, the healing trance dance from Puglia used as an exorcism to cure the mythical bite of the tarantula, a mental disorder that afflicted mainly women, and which goes back to the ancient Greek rites of Dyonisus.
About Alessandra:
Alessandra Belloni is the only woman in the United States and in Italy specialized in the Southern Italian tambourine style together with the singing and the dancing.  She is also the first one to design a line of Southern Italian Signature Series tambourines made by REMO, author of the first book/DVD on Tarantella  rhythms entitled RHYTHM IS THE CURE with Mel  Bay Publications. Now designing special tambourine brushes with Pro-Mar.
Artist in residence at the Cathedral of St. John the Divine in New York, she has been voted one of the best percussionists in the world.
For more information: email Abelloni@aol.com and visit www.alessandrabelloni.com or www.youtube.com/alessandrabelloni  or www.youtube.com/alessandrabella7
Rhythm is the Cure Workshop