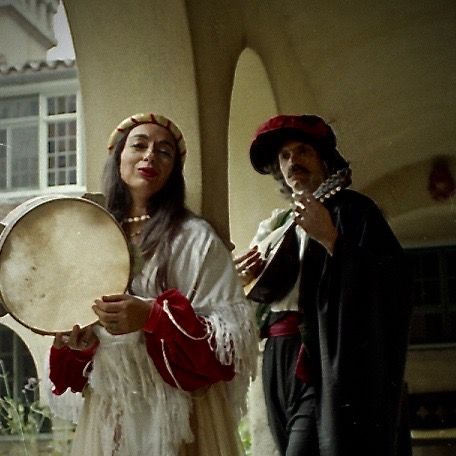 Alessandra Belloni & John La Barbera, directors and co-founders of I GIULLARI DI PIAZZA, Italian Music & Theater Company, artists in residence at the Cathedral of St. John the Divine, proudly announce new online singing classes! ON THE RICH HERITAGE OF SOUTHERN ITALIAN FOLK SONGS, WITH MEZZO-SOPRANO ALESSANDRA BELLONI AND GUITARIST & COMPOSER & MUSIC DIRECTOR JOHN LA BARBERA
Classes will  focus on learning repertoire and how to project the voice, especially in the rich southern Italian folk style, with open vowel sounds and a short vibrato.
Students will find their pitch, to sing the melodies and harmonize.
Classes will take place 2 times per month,
Intermediates:  beginning October 1 every other Fridays at 6:30pm SET 
 Space is limited to a small group of students,
the cost is $ 60 for 90 to 120  minutes  
You can register using VENMO, ZELLE or this link   https://www.everbutton.com/pay/6349
Please preregister for 2 classes in advance! 
For More information: www.alessandrabelloni.com/online-classes
If you have questions, please email: Abelloni@aol.com or alessandrabelloni@gmail.com
Also available John La Barbera's mandolin and guitar books (good for violin as well) with all the lyrics from our repertoire. https://www.johntlabarbera.com/publications
www.johntlabarbera.com or email
Beginners classes to be announced later in October 
We will be following part of the books by Alessandra Belloni:
RHYTHM IS THE CURE with Mel Bay Publications &
HEALING JOURNEYS WITH THE BLACK MADONNA published by Inner Traditions - Bear & Company
Each lesson will feature 2 songs from a specific southern Italian region: Campania, Calabria, Puglia, Sicily, and Lazio.
We will describe the history, myths and legends that are part of this rich ancient folk tradition.
We will study:
·        
a    *  ancient healing chants using the Lydian Scale or Neapolitan Scale, and sacred healing chants in honor of the Black Madonna.
·       (Example for Campania:Jesce Sole  chants and prayers to the Madonna of Montevergine (Avellino. 
* Renaissance love songs from Naples known as "Villanelle" in 3-part harmony, along with some ballads.
·      * various tarantellas from different regions.
·        *  Women work chants
·         
Please write ASAP is you want to register space is limited and we can only offer 2 classes per week (beginners/advanced) twice a month at this time.
MUSIC DESCRIPTION BY COMPOSER AND MUSIC PROFESSOR JOHN LA BARBERA:
Students will receive a detailed explanation of the songs in musical terms and will empower the student to have a better understanding in singing the repertoire.
 The approach will be through:
  *    How to listen to the contour(shape) of the melody and detect the differences between step wise movements (conjunct) and wider leaps (disjunct) in the melodic intervals.
 *  Understanding note values. How to listen and count the rhythmic values of the melody. Example: How long do you hold a note and how to accurately fit the lyrics in within the beat.
  *  Finding the pulse and meter. Explanation of strong and weak beats, pick-ups and syncopation.
  *  Understanding the harmonic structure of the songs. Most traditional folk songs are accompanied by simple chords that support the melody. You don't have to play a guitar or piano to hear the progression of chords. Demonstration and explanation of the I-IV-V progression and the I-V progression (I =stability, completion, and resolution; V=movement and needs to resolve).
 *    Understanding musical phrases. Songs have musical sentences called phrases. How to hear phrases, will enhance your interpretation and overall performance.
*     Understanding the form of the songs. This is the architecture of the song. It will highlight hearing repetition and patterns in phrases. Some forms are: Strophic, binary, verse-chorus-verse, etc.
All of these elements are found in the repertoire that you will learn. Having a clear understanding of them, will enhance your experience.
IF YOU WILL REGISTER PLEASE ANSWER THE FOLLOWNG QUESTIONS:
1) DO YOU HAVE MUSICAL TRAINING
2) DO YOU SING IN A CHOIR
3) CAN YOU READ MUSIC
4) WHAT IS YOUR RANGE
5) DO YOU SPEAK ITALIAN or DIALECT 
7) DO YOU PLAY ANY MUSICAL INSTRUMENTS?
Please take time to watch these links!
EXAMPLES OF HEALING CHANTS: 
 CUNCTI SIMUS CONCANENTES procession of The Black Madonna  http://youtu.be/HJqD5cr1NKk
 EXAMPLES OF TARANTELLA
 Pizzicarella
http://www.youtube.com/watch?v=3oiV_2oqHlI
 EXAMPLES OF NEAPOLITAN VILLANELLAS (Intermediate students)
Madonna Tu Mi Fai
 http://www.youtube.com/watch?v=fqKamfos3Nk
EXAMPLE OF WORK CHANTS (Beginners/intermediate)
Fronni d'Alia