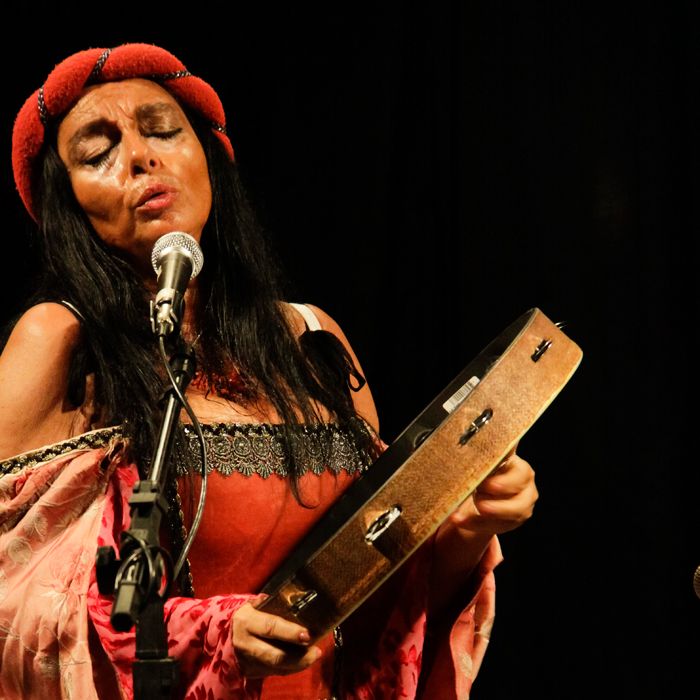 Tarantata: Dance of the Ancient Spider
May 2, 2020 Los Angeles Central Public Library
Alessandra Belloni is a world-renowned percussionists, singer, dancer and actress born in Rome, Italy. Belloni's extensive body of work focuses on traditional Southern Italian dances, percussion and singing. Belloni has spent many years participating in drumming festivals and ceremonies in remote areas of Southern Italy, interviewing elders, researching women's spirituality, ethnomusicology and religion. An award winning tambourine virtuoso, Belloni is committed to preserving the rich traditions of Southern Italian folk rituals and culture where music and dance are rites of purification and healing.
In Los Angeles, Belloni will present Tarantata: The Dance of the Ancient Spider, and the Healing Journey of the Black Madonna. Her performance is a syncretic mix of pagan and Catholic elements, in which music and dance create a magical space to heal and cure. Be ready for an emotional tour-de-forces of frenetic dances, sacred songs, chants  and rhythms.
The Italian American Museum of Los Angeles (IAMLA) is a twenty-first century interactive museum that documents the history and contributions of Italian American in Southern California and the nation, and showcases a seldom examined chapter of the Italian diaspora. The IAMLA features exhibitions and a variety of cultural educational programming and it is collaboratively operated by the City of Los Angeles. The museum is located in the Italian Hall, which was constructed in 1908 to serve as a community gathering place. Today, the Italian Hall is among the oldest remaining structures from Los Angeles' historic Little Italy and is listed on the National Register of Historic Places. The IAMLA is a 501(c)3 charitable organization.